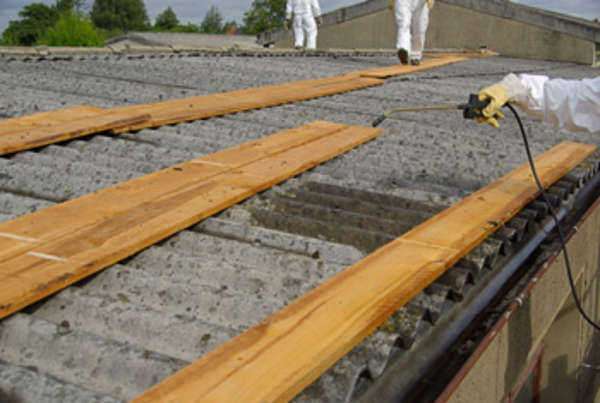 Top Ten leading Recommendations Offered by the Asbestos Strategies Process:
Action 1: Update Existing Asbestos-in-Buildings
This portion of the Asbestos Strategies Process mandates the issuance of guidance documents that must be provided to workers to protect their health and comply with the jurisdiction's regulations. The Environmental Protection Agency is required to update the "purple book" guidance document to render it the premier technical resource for managing asbestos in facilities and buildings. This resource should include an updated "green book" (details operations and maintenance information) and must be consistent with current federal laws. Resulting resources, which may be transcribed via an online integrated database, will facilitate compliance with regulations, ultimately reducing exposure to asbestos fibers among contractors working in buildings.
Action 2: Encourage Compliance with Existing Regulations
This portion of the Asbestos Strategies Process states that regulatory agencies must encourage compliance with good practices and existing regulations for managing asbestos in buildings. In certain instances, a business will not fully comply with existing regulations because they are never made aware of said regulations. In other instances, they may not understand why it is important that the regulations be followed. However, both may be addresses through a series of asbestos awareness seminars. These seminars must be sponsored by a government agency, such as the Environmental Protection Agency or the Occupational Safety and Housing Administration. Joint sponsorship is sought; seminars should be held in tandem with regional or national meetings of professional trade associations, such as the International Facility Managers Association, the Environmental Information Association, the Building Owners Management Association and the American Institute of Architects.
Action 3: Clarify the Asbestos Definition to Formally Address Asbestos Contamination
This portion of the Asbestos Strategies Process is connected to the wide-spread asbestos contamination that took place in Libby, Montana. The Asbestos Strategies Process states that a significant portion of the asbestos from amphiboles found in Libby, Montana was not among the six minerals currently regulated by the federal government as asbestos. Regardless, these minerals were regarded as similar enough to be defined as regulated agents (the minerals were still deemed hazardous to humans). The Libby situation must be considered an important less, but cannot be treated as a typical case. The Asbestos Strategies Process states that the federal process should be undertaken as quickly as possible to clarify the definition of asbestos. Many legislators and connected parties recommend that the asbestos definition should include all asbestiform amphiboles in tandem with all regulated chrysotile and amphiboles. The Environmental Protection Agency, the Occupational Safety and Housing Administration, and the Mine Safety and Health Administration is required to evaluate how a formal asbestos definition should be derived and what consequences (if applicable) it would impose on other industries. If adopted, the definition would allow federal agencies to address the risk of asbestos exposure. The USGS and other organizations, through the delivery of a formal definition, can serve as a resource for clarifying and comprehending the science associated with the creation.
Action 4: Advance Federal Legislation to Ban Asbestos
Asbestos fibers continue to be utilized in American products. This obviously presents risks to members or public workers; it also increases the cost of regulatory compliance for building owners. A lucidly defined legislative ban on the manufacture, production, importation and distribution of products with commercially-added asbestos products is the most direct means to address concerns regarding health risk. Moreover, the ban would reduce future costs for managers and facility owners. This ban must be proposed by the United States Congress and conclusively resolved by the same legislative body. Enabling this sort of legislation would terminate remaining products by a specific date. Any jurisdictional issues that may arise can be addressed in Congressional legislation. Implanting said regulations and subsequently enabling such legislation can be challenged in the court system. A ban of regulations is within the United States Environmental Protection Agency's authority and may also be an option. The bulk of connected individuals see a ban on asbestos materials, enacted to prevent exposure, as a complementary means to expedite the resolution process.
Action 5: Develop a National Mesothelioma Registry
This portion of the Asbestos Strategies Process states that a national mesothelioma cancer registry is needed to facilitated epidemiological studies to study the effects of asbestos exposure and enable health officials to pinpoint and respond to said hazards. A number of countries (and many states) have established mesothelioma cancer registries. The creation of such a registry is performed by government agencies within the Center for Disease Control. The national Center for Environmental Health and the national Institute for Occupational Safety and health in tandem with Agency for Toxic Substances and Disease Registry are responsible for the creation of said registries. A similar effort to connect interested parties with experts and substantial data would improve treatment for all asbestos-related diseases.
Action 6: Update Asbestos Model Training Programs
This portion of the Asbestos Strategies Process is needed to ensure that workers understand the model training curricula implemented to mitigate asbestos exposure. Because there have been a number of changes to federal standards and regulations since the original model was created, it is important to ensure that all employees connected to asbestos understand current regulations and understand the importance of following said regulations. The Environmental Protection Agency is required to update the model to ensure that all connected employees and relevant agency priorities are substantially reflected. Updated versions of the curricula should cover the OSHA revised asbestos standards, the EPA Worker Protection Rules and the revised EPA asbestos laws associated with the National Emission Standard for Hazardous Air Pollutants. The providers of said curriculum are also required to vary the course content in all refresher courses.
Action 7: Enforce Existing Asbestos Laws and Regulations
This portion of the Asbestos Strategies Process states that existing asbestos regulations are designed to reduce the adverse effects from asbestos workers on the general health of the workers and public. An inconsistent interpretation of these regulations will lead to confusion and a lax enforcement; when this occurs, both parties will face an increased risk of exposure. The Consumer Product Safety Commission, OSHA, EPA and various state regulators must focus on more predictable, consistent and stringent enforcement of these regulations, which of course, are implemented to offer greater benefit than a delivery of scarce resources to new rule-making initiatives. This suggestion should be implemented immediately; however, this effort must continue for an extended period of time. A consistent interpretation will lead to increased compliance and potential reduced liability for business objectives. Any initiative taken by the OSHA or the EPA can encourage the enforcement of existing asbestos regulations at the state or local level. In this sense, consideration must be given the use of government regulations, such as the ones created by the EHA, to assure definitive compliance with existing regulations at the time an application is being used for demolition, renovation or building projects.
Action 8: Reduce the Occurrence of Unintended Asbestos Use in Products
This portion of the Asbestos Strategies Process states that accidental contamination of asbestos products or mineral products with asbestos can increase user risks or risks for the workers who create said products, and this in turn, can result in substantial liability losses for the underlying company. Assisting entities in avoiding asbestos is in the best interest for all associated parties. If this is not possible, reduction of naturally occurring asbestos minerals in products may be achieved by programs established by a consortium of mining concerns for the developing of analytical protocols for the evaluation of bulk materials at the mining stage. Oversight of this program may be provided by either the MSHA or the EPA, with technical assistance offered by the National Institute for Standards and Technology. This program, suggested by the Asbestos Strategies Project, assists in the quarrying and mining industries in avoiding unwanted asbestos in their products. The program also provides a degree of assurance to users of necessary raw materials that are not contaminated with asbestos fibers.
Action 9: Address Asbestos Products in Commerce
This portion of the Asbestos Strategies Process states that employers, consumers and building owners are typically unaware of the inclusion of asbestos in products. Without this general knowledge, these entities cannot take appropriate steps to protect their health. A unified effort to educate employers, consumers and buildings owners concerning asbestos products is therefore necessary. These programs would attempt to assist the aforementioned entities in processing informed decisions with regards to which products are legally available with commercially produced or added asbestos. This educational effort should be performed by the Environmental Protection Agency, the CPSC or the OSHA. These government agencies need to perform research to determine which products actually contain commercially added asbestos fibers, which do not, and which should be phased out by manufacturing companies. The Asbestos Strategies Project states that the United States Congress must consider amending the Asbestos Information Act of 1988 and update information regarding their list of asbestos-containing products to the Environmental protection Agency.
Action 10: Partner with Local Agencies to Support Efficient Asbestos Training
This portion of the Asbestos Strategies Process states that training requirements for contractors must be enforced throughout the country. The presence of ineffective or fraudulent training practices does exist and is a genuine concern. For example, if an untrained contractor performs an asbestos abatement procedure, they not only put themselves at risk of asbestos exposure, but also every occupant in the building. Training providers under the United States Environmental Protection Agency model accreditation plan and corresponding local plans must be audited with sufficient frequency to affirm that training is provided, records are updated and maintained, tests are conducted and official certificates are issued. These actions, conducted in concert with the previously mentioned Action 6, aims to increase the effectiveness of abatement efforts and general worker safety. Reducing training fraud provides greater security to building owners and occupants. Partnering with local and state agencies provides better coordination.
Comments
comments