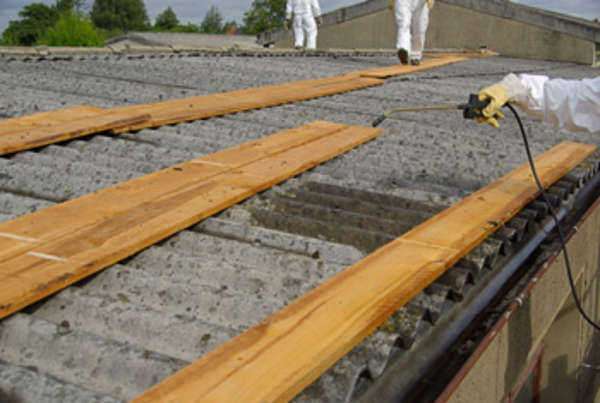 Minnesota asbestos abatement procedures are coordinated by the Minnesota Department of Health, with the cooperation of the Minnesota Pollution Control Agency for waste disposal. In addition to informing the public on the dangers of asbestos, the MDH in coordination with the Minnesota Department of Labor will license and train individuals in proper Minnesota asbestos abatement procedures and work practices. The MDH will also collect notification of asbestos work and records of asbestos abatement work done around the state.
Minnesota asbestos abatement procedures for friable material
Friable material is material that easily breaks with minimal force and human contact is usually sufficient. The danger of this material is that by nature, when it crumbles it will release tiny asbestos particles that will cause illnesses decades later. Friable asbestos containing material is at least 1% asbestos by weight.
Encapsulation is one possible solution in the Minnesota asbestos abatement procedures, as this allows for a sealant to prevent further fibers from breaking loose. As long as the sealant is intact, there is no danger. This is an option for renovation and general asbestos abatement. For demolitions however, you must remove as asbestos containing materials, including non-friable materials.
The alternative to encapsulation is careful removal by wetting the material. Wetting is considered the accepted way to get rid of friable asbestos, as when it is waterlogged there is no danger of having more materials spread. The soaked asbestos is scraped from the surface and any debris are dispatched with vacuum containing a very fine HEPA filter. The wet material will need to be sealed and disposed at an acceptable Minnesota solid waste disposal site. The contractor generally has to send advance notice before disposing of friable asbestos containing materials.
Minnesota asbestos abatement procedures for non-friable material
Non-friable material can be left inside the structure if it is a renovation. This is because the asbestos is sealed inside and cannot be released. If the renovation is directly linked to the contaminated material, it must be removed. There is a separate classification for non-friable materials that may crumble as this is as dangerous as friable materials. Almost all non-friable material must be removed before a demolition.
Where is asbestos in buildings?
You will find asbestos in most buildings built prior to 1980. The versatility of asbestos, particularly Chrysotile asbestos, made it useful for a number of applications. Popcorn ceilings for example, a very friable material, were applied not only for sound proofing, but also for its eater and fire resistant properties. Most areas undergoing asbestos abatement must be sealed with plastic sheeting and consist of a filter to catch airborne particles. For large scale projects, a power head will be available to was down any materials or persons that handles the asbestos containing materials.
Providing notification
You must notify the MDH for most asbestos abatement projects not involving a single family home or small apartment complex. Minnesota allows permit applications to be filed on line through a secured system. You will need to provide information on the contractor, the property, the amount of asbestos and plans for disposal. All fees related to this work must be settled 5 days before work begins.
Comments
comments