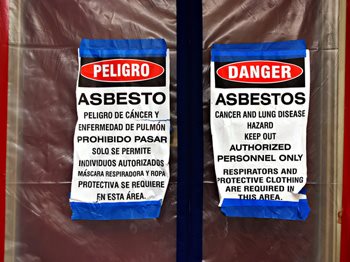 Why is Asbestos Regulated by Law?

Asbestos is a naturally occurring mineral that was widely used for the construction of commercial and private properties. As a result of its inherent characteristics, asbestos offered contractors and construction companies numerous benefits and resources. Asbestos acted as a flame and heat retardant substance, as well as a strengthener for complimentary building materials.
Although asbestos offered such benefits, scientific research revealed that chronic exposure to the chemical agent precipitated the development of mesothelioma (a rare lung disease) and similar medical ailments. In a solitary state, asbestos holds no tangible threat.
However, when disrupted asbestos releases toxic flakes into the air that, when inhaled, can result in the augmentation of such deadly diseases. These dangerous characteristics sparked legislators to impose regulations on the manufacturing, use, and supply of asbestos-based materials throughout the world.
Asbestos Law in the United States
Following 1980, asbestos cases became increasingly popular due to the increased awareness of the mineral's dangerous characteristics. Numerous individuals—typically those involved with asbestos-related jobs—filed personal injury claims to recoup losses associated with the development of an asbestos-related ailment. As the cases piled up, the United States Supreme Court became involved with a number of asbestos-related cases. Contact asbestos lawyers for legal advice and assistance.
Several legislative remedies were considered by the United States Congress, but these motions were refuted for a number of reasons. Each case and subsequent ruling dealt with the proposal of a mesothelioma or asbestos-related injury fund, where a large amount of money would be pooled and subsequently distributed to those individuals in need of a settlement.
The most significant piece of legislation to limit the use and regulate the distribution of asbestos was passed in 1987 in the form of The Control of Asbestos At Work Regulation Act. This piece of legislation regulated all forms of asbestos-based materials and provided the statutory protection for everyone who may be exposed to the deadly chemical from work-related activities.
The Act also instituted control limits which regulated the amount of asbestos particles which were legally allowed to enter the atmosphere. The control limits are dependent on the type of asbestos and are organized by two levels which depend on the time and exposure of the asbestos particles.
For example, for blue and brown asbestos fibers, the legally allowable limits are: 0.2 fibers/ml of air averaged over any continuous period of 4 hours or 0.6 fibers/ml of air averaged over any continuous period of 10 minutes. For white asbestos particles the regulations are as follows: 0.5 fibers/ml of air averaged over any continuous period of 4 hours or 1.5 fibers/ml of air averaged over any continuous period of 10 minutes.
In addition to the legal limits of asbestos particles in the atmosphere, all employers who deal with the removal or the supply of asbestos must follow specific regulations instituted by the Federal and State governments. All employers dealing with asbestos must prepare an acceptable safety protocol along with a plan of work that must be carried out by all employees on the work site.
The employers must also supply the workers with appropriate attire, as well as respiratory equipment and materials. At all times, the employer must do their best to limit the exposure of their employees to the chemical agent. A failure to do so will result in sanctions in the forms of fines or termination of the company's intended function.
If any of the aforementioned laws are violated and, as a result, an employee or an individual develops an asbestos-related disease, an asbestos lawsuit should be filed by the damaged party.
Comments
comments