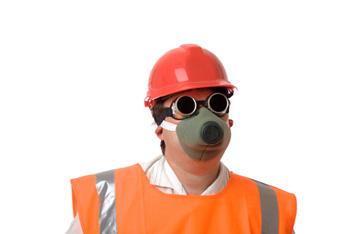 The Pennsylvania Department of Environmental Protection is responsible for a large share of the responsibility in regards to Pennsylvania asbestos abatement procedure. This includes collecting notification of asbestos abatement projects, inspecting work sites and informing the public on the dangers of asbestos in the home and workplace. The Department of Labor for Pennsylvania also plays a role in asbestos abatement procedure, namely, certifying professionals to carry out asbestos abatement in a safe manner that complies with federal requirements set by the occupational health and safety administration.
Severity of asbestos contamination
Pennsylvania has a very serious history of asbestos contamination, especially in the mining and industrial sectors. The tight confines of the workplaces led to high concentrations of asbestos fibers, either from natural deposits of applications of asbestos as insulation or on machinery. Homes containing asbestos material will be the biggest concern of Pennsylvania asbestos abatement procedure.
Notification requirements
There are up to five agencies that may have to be notified of any asbestos abatement projects, depending on the location. Certain projects requiring federal notification to the EPA generally involve federal buildings or buildings on federal land. The Pennsylvania Departments of Labor and Environmental Protection will generally require notification for all projects. Allegany County and the City of Philadelphia also require the notification form to be sent directly to them. Copies are not allowed and each document must have an original signature.
Under local laws, and asbestos abatement in Allegheny County involving any asbestos containing material exceeding 260 linear feet or 160 square feet require a notification form to be submitted to the county. There are some specific instructions for filling out the form, as per the standards of the county on the form itself. The City of Philadelphia requires notification for ACM removal of more than 80 sq ft or 40 ft of friable ACM that is not in a private residence. For these two areas, the notification will be sent to the respective asbestos control unit for that area. All other notifications will be sent to the DEP in Harrisburg.
Wet removal
Wet removal of asbestos containing materials is important as waterlogged fibers do not become readily airborne, even when broken. Saturating the asbestos before removal prevents the release of thousands of fibers. Typically, most asbestos abatement requires powerful vacuums to attract all particles and sheeting enclosure to prevent any fibers that are not waterlogged from escaping. Testing in the field and laboratory are necessary to ensure that no asbestos remains after the work is completed.
Proper disposal
Small amounts of asbestos must be doubled bagged and labeled accordingly, as stated in Pennsylvania asbestos law. Contact with the Pennsylvania DEP is necessary to abide by Pennsylvania asbestos abatement procedure. Even residential units that do not have to abide by notification requirements must dispose of asbestos containing materials accordingly. Clothing worn during the abatement and disposable equipment should also be double bagged and disposed accordingly.
Comments
comments